Hospice Services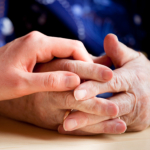 At Mercy Hospice we provide a wide range of hospice care services that include:
For the Patient
Physician-Directed Care
Skilled Nursing Services
Home Health Aide Services
Spiritual Support / Pastoral Care
Physical, Speech and Occupational Services
Routine Home Care
Inpatient Care
Medical Equipment
Medical Supplies
Medications
Pet Therapy
For the Family
Respite Care
Medical Social Services
Spiritual Support
Pastoral Care
Grief Counseling Services
Bereavement Services
Volunteer Services
Our Interdisciplinary Hospice Team consists of:
Your Primary Care Physician who will direct and approve the plan of care for you or your loved one.
A Hospice Medical Director who will support the attending physician, the patient and the hospice team as a consultant. He also oversees and directs the plan of care the patient receives.
A Team of Nurses will make regularly scheduled visits to the patient and will provide expert pain management and symptom control. The patient and family initiate the plan of care and continues to assess changing needs, while in constant communication with the patient's physician and medical director.
Home Health Aides provide personal care for the patient such as assistance with dressing, bathing, and grooming. They can also provide necessary light housekeeping tasks.
We are here for you 24 hours a day, 7 days a week.
A Social Worker provides assistance with practical and financial concerns as well as emotional support, counseling, and bereavement follow-up. They evaluate the need for volunteers and other support services needed by the family and facilitate communication between the family and community resources.
A Spiritual Counselor / Chaplain can be a member of the clergy who visits and provides spiritual support to the patient and family at home. They often serve as the liaison between them and their religious community. Chaplains can also assist with memorial services and funeral arrangements.
Volunteers who provide companionship, friendly visits, and also help caregivers.
Physical, Speech and Occupational Therapists are available when deemed necessary by the hospice team.
It may be time to consider Mercy Hospice when…
A life-limiting illness is determined by your physician or our medical director.
The patient or the family member chooses palliative services versus curative treatment.
The focus is on providing physical, emotional and spiritual comfort as opposed to pursuing a cure.
After a referral is made to Mercy Hospice by a physician, case manager, healthcare provider, family member or other individuals, we will contact the attending physician for approval. A team member will visit the patient to explain Hospice benefits and determine services needed.
Mercy Hospice or Care Giver Staff is available 24 hours a day, seven days a week. Our hospice team, the patient family and physician develop a care plan that focuses on the individual and family's needs and wishes, including the need for pain management and symptom control. The plan outlines the care and support services needed such as medical care, personal care, social work services, spiritual support, counseling and other services. It also identifies the medical equipment, medication and treatments necessary to provide high quality comfort care for the patient.
Please call Mercy Hospice at 972-459-9992 to speak with one of our caring professionals about hospice. Contact Mercy and see if Hospice is the right choice for you, your loved one or your patient. We believe you deserve the very best.
Non-Discrimination Policy
Mercy Hospice is an equal opportunity provider of hospice care services. We respect the right of every individual to receive quality care services. We provide hospice care and support services to all clients regardless of age, illness, race, creed or ability to pay. Once you have made a decision to spend your remaining days at home or in a homelike setting, we will do everything in our professional capacity to enable you to reside there in your preferred environment. Mercy is at the heart of your need.